Around these parts, you're lucky if you get a bench. Thanks to Walyou, we now know that many cities take their bus stop design quite seriously! To make the lives of public transportation users easier, authorities and urban developers around the world have tried to improve the them. Some succeeded. Below we've posted some of coolest bus stops around the world.
Designed by architect Justo Garcia Rubio, Casar de Cáceres bus station is located on the path to a children's school which, defines its shape as a large loop to evoke the world of children's dreams. The construction follows the region's tradition of using one single material for all the building's elements, in this case, it is a sheet of white concrete, which leads to the special structure, roof and spatial limits.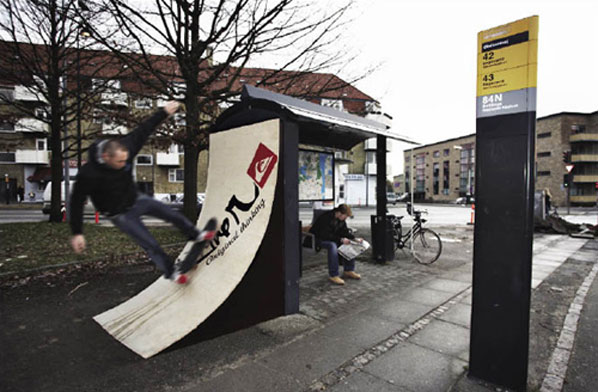 A bus stop in Copenhagen allows skaters to show off their latest tricks with a Quiksilver mini ramp attached to one side. There's also a Quiksilver billboard that comes with a rail for those who have the sudden itch to grind.
Japan continues to make us awww, even with its cute bus stops. They come in the shape of the most delicious fruits that everyone loves love: strawberry, orange, melon, etc. With the shapes and colors matched to details.
These cool looking bus stops have gained their reputation as a symbol of Curitiba – the heaven of urban design in Brazil. The bus stop is designed like a subway station where commuters pay at the entrance, so that they can walk directly on the bus. There is only one price no matter how far you go.
The twisting and arching creation you see here is a serious art piece of art by Dennis Oppenheim, depicting the metamorphosis of a bus becoming a house. It serves as a bus station at Pacific View mall in Ventura, California. Standing at 36'tall, the architecture revolves 360 degrees and slowly transforms from a bus into a house.


For more wacky bus stop fun, visit the full list at Walyou.